PCB & PCBA Manufactring Center
WITH prototypes, manufacturing, kitting, assembly and production included, we offer complete electronic assembly solutions. We have a complete range of electronic component placement devices, soldering equipment, and specialized electronic assembly instruments that deliver productive and top quality prototyping, small-to-mid-scale PCB manufacturing, entire kitting, assembly, and production capabilities.
OUR list of printed circuit board assembly capabilities allows our customers to have the convenience of a "One-Stop Service" for their manufacturing and assembly needs.
Main Production & Inspection Equipments (8 SMT LINE 3DIP LINE)
Equipment Name
Model
Manufactured by
Quantity We Have
Remarks
Full Automatic Screen Printer
DSP-1008
DESEN
8
SMT Machine
YV88
YAMAHA
4
8 SMT Lines
SMT Machine
YG100XGP
YAMAHA
18
SMT Machine
YV100XG
YAMAHA
3
SMT Machine
YG200
YAMAHA
5
Reflow Soldering
8820SM
NOUSSTAR
4
Reflow Soldering
XPM820
Vitronics Soltec
3
Reflow Soldering
NS-800 II
JT
1
Solder Paste Inspection
REAL-Z5000
REAL
1
Automatic Optical Inspection System
B486
VCTA
3
Automatic Optical Inspection System
HV-736
HEXI
5
X-Ray
AX8200
UNICOMP
1
BGA Re-work
MS8000-S
MSC
1
Universal 4*48-pin drive concurrent multiprogramming system
Beehive204
ELNEC
3
Automatic Plug-In machines
XG-3000
SCIENCGO
2
Automatic wave soldering system
WS-450
JT
1
3 DIP Lines
Automatic wave soldering system
MS-450
JT
2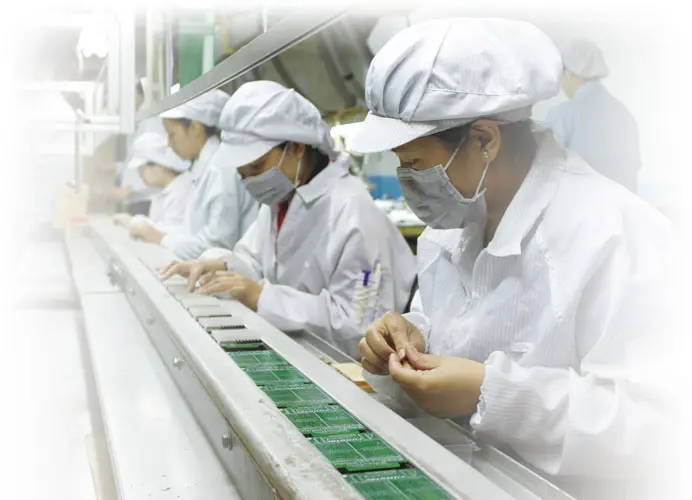 SATECH has 3 DIP lines. Benefiting from technical workbenches, rail cars and carriers, the DIP efficiency is immensely promoted so that the yield is up to 150,000,000 points per day. By reasonable KPI for the workers and the process manager, we optimize the DIP lines aiming at promoting the percent of pass up to 99.8%.
FOR the quality control, firstly our DIP team always analyze the quality condition of PCBs which the client provided and propose some suggestion on optimization in DIP craft. Then the PE engineers need to make series of tests for the oven temperature in wave-soldering, scaling powder, the gradient, transfer rate and preheating zone and so on to fix up the best DIP quality. Finally they even make some special jigs to make sure the PCB passes through wave-soldering, as you know, this can protect the PCB in the whole wave-soldering.
SMT Processing
We have 8 SMT lines and the yield is 8,000,000 pins per day. The precision of chip replacement is up to +0.1MM, this indicates we have professional skills in producing all kinds of printed integrated circuit boards such as SO, SOP, SOJ, TSOP, TSSOP, QFP, BGA and U-BGA with surface-mount technology (SMT), thru-hole technology (THT) and merged tech components.
SATECH always attach importance to the quality of SMT processing, so we always comply with the international IPC acceptance standard and ISO9001 SMS to strictly implement SOP work flow and execute IQC & IPQC properly, therefore, in our SMT lines, some common problems such as cold solder joint and material wastage can be under effective control. Now we are proud to be the well-known professional SMT processing lines in whole Shenzhen.
Material Checking: the quality of material is decisive for the lifetime of PCB.
Solder-paste Checking: we always checkout, unfreeze and stir before using the solder paste from well-known brand SMIC.
Stencil & Scraper Control: the stencil is in constant-temperature preservation and made tension test before using. The using of a scraper is able to be precisely controlled in an angel of 45, and it will be scrapped after being using in limited times.
SMT Modulation & First QC: after modulating the SMT machines to make sure of mounting precision as the client provided the coordinate files, then we make the first QC to produce in bulk.
Reflow Soldering Control & Second QC: after SMT, the reflow soldering is proceeded and modulated the reflow temperature according to the PCB plate and some special components and parts . Meanwhile, before volume production we make the second QC to avoid that the solder paste is dissolved and components & parts becomes yellow or cold joint.
Third QC: QA workers sample the finished PCB and then parcel up to deliver.